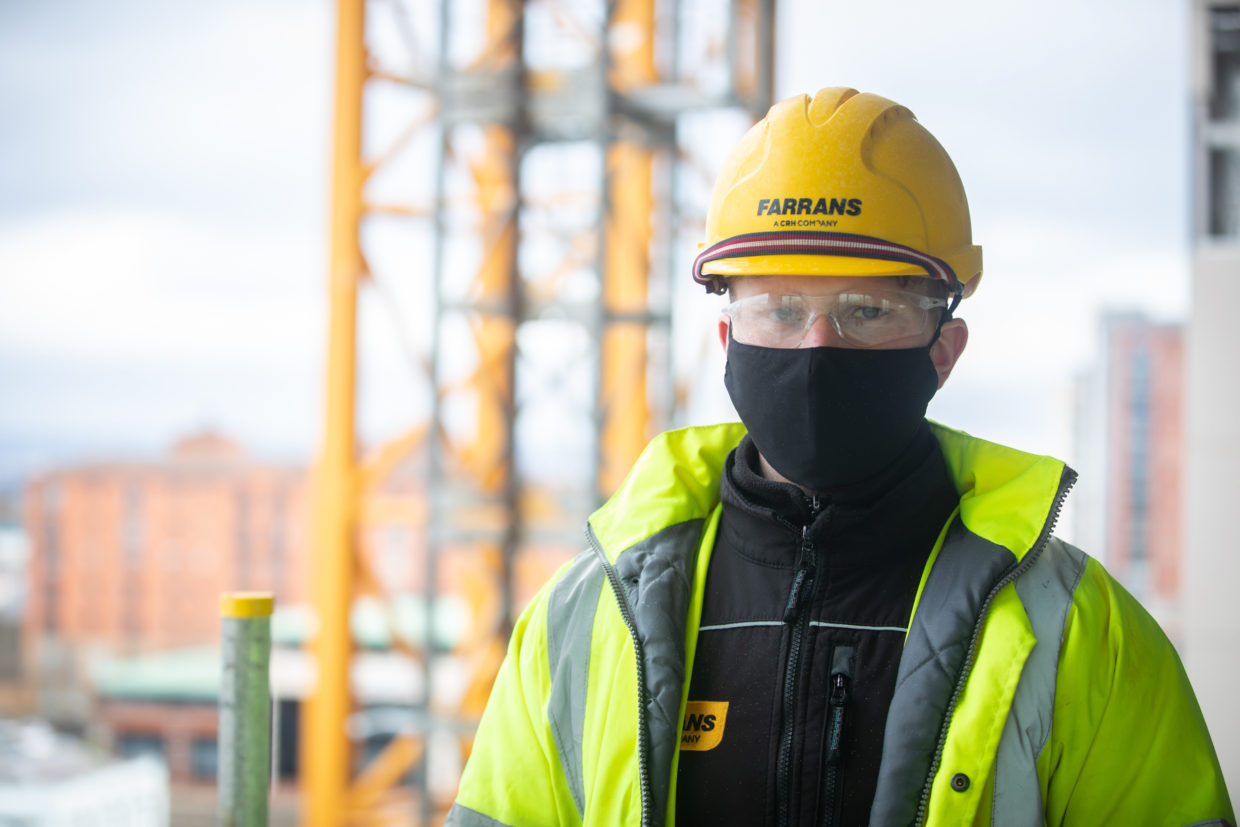 Apprentices with Ambition: Matthew McKee
In this month's Ambition magazine, our apprentice Matthew McKee, talks about his career ambitions. 
I commute from Lissan outside Cookstown every day to be on site at City Quays 3 in Belfast Harbour by 7am. This building has a great view over the water so it is a nice place to work.
From a very young age I had a keen interest in construction and engineering, which developed throughout school while I studied STEM subjects. When I was introduced to the Institution of Civil Engineers programme, a local government led initiative which seeks to identify and examine potential collaborative opportunities, it was a natural progression to work-based learning after A Levels.
I attended St Pius X College where I sat my A Levels in 2019.  I had an interest in engineering however I wasn't sure university was the best option for me, which lead me to apprenticeships. I applied for my role with Farrans Construction through WorkPlus. I was delighted when I was invited to interview, and following a successful process, I was selected as the incoming engineering apprentice.
I'm now into my second year of the two year apprenticeship and am due to finish in September with a Foundation degree in Civil Engineering accredited from South West College in Omagh. This will enable me to qualify for a part-time degree in Civil Engineering at Ulster University. I'll continue to work on Farrans' projects through-out the course.
After doing some work experience during school I knew I wanted to work in construction. I had spent a week at a local metal engineering company in Cookstown called East Sperrin Fabrications and knew from then that I was well suited to a career in this industry. Since starting my apprenticeship at Farrans, I've also worked on the multi-million pound sports and leisure facility at South Lake Leisure Centre in Craigavon.
I'm currently working on Belfast Harbour's City Quays 3 project in Belfast city centre. The 250,000 square feet City Quays 3 will be one of the largest Grade A office developments to be built in Northern Ireland, designed with sustainability at the fore. I work alongside sub-contractors on site, ensuring that health and safety checks have been carried out, and taking new workers through inductions and issuing permits for site visits. I also help the senior engineers oversee the programme by checking that measurements of building materials are coherent with the drawings.
It has been an amazing opportunity to work on a development of this stature. Once City Quays 3 is complete it will facilitate 1,800 workers and I'm really proud to be part of the team that brought this project to life.
It is a bit of a cliché, but the best part of working at Farrans is that every day is different. I also enjoy the ability to learn on the job. When you come to Farrans your learning continues and they provide you with excellent support. The senior engineers are always on hand to give advice. I'm someone who thinks on their feet, quite literally, which is why the apprenticeship has worked so well. Being on site and working on projects in real-time has taught me so much.
My ambition is to continue to progress through this apprenticeship to become a professionally qualified civil engineer with a Masters degree from Ulster University.
You can read this interview at: Ambition July/August 2021 by Ulster Tatler – issuu