Farrans opens new office in Leeds
We are excited to announce that Farrans Construction has opened a new office in Leeds city centre as we continue to grow our presence in the midlands and the north of England.
The new office in Leeds will be used to manage our existing portfolio of high profile building and civil engineering projects, including roads infrastructure improvement project A1(M) junction 47 in Nottingham for National Highways and North Yorkshire County Council, and Live Oasis: Strato in Leeds for Infinity Construction Enterprises.
It will also serve as a base to grow FADO, our interiors and refurbishment arm. Working with landlords, tenants, service providers and professional teams FADO deliver complex and creative projects across all sectors, offering complete design, construct and aftercare services.
Speaking about this announcement our Managing Director, Dominic Lavery, said:
"We are pleased to be announcing our investment in a new Leeds office today, establishing our commitment to building long term partnerships with clients, consultants and supply chain in the midlands and the north of England. We recognise the opportunities in the pipeline of building, civil engineering and fit out projects in this area and we are keen to establish new relationships.
"We are already on site on a number of projects in and around Leeds, including most prominently in the city centre Live Oasis: Strato, which is a 20-storey student residential accommodation block of 210 studio apartments.
He added: "Leeds is one of the most ambitious and energetic cities in the UK. Through our social value delivery and corporate social responsibility activity we always aim to leave a long-lasting, positive impact in the areas that we work.  We are looking forward to becoming part of the fabric of the midlands and the north of England, working with local suppliers and providing educational and apprenticeship opportunities for young people to experience the construction industry."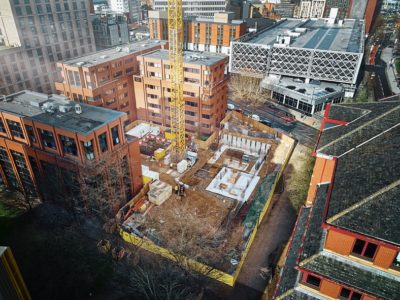 Live Oasis: Strato