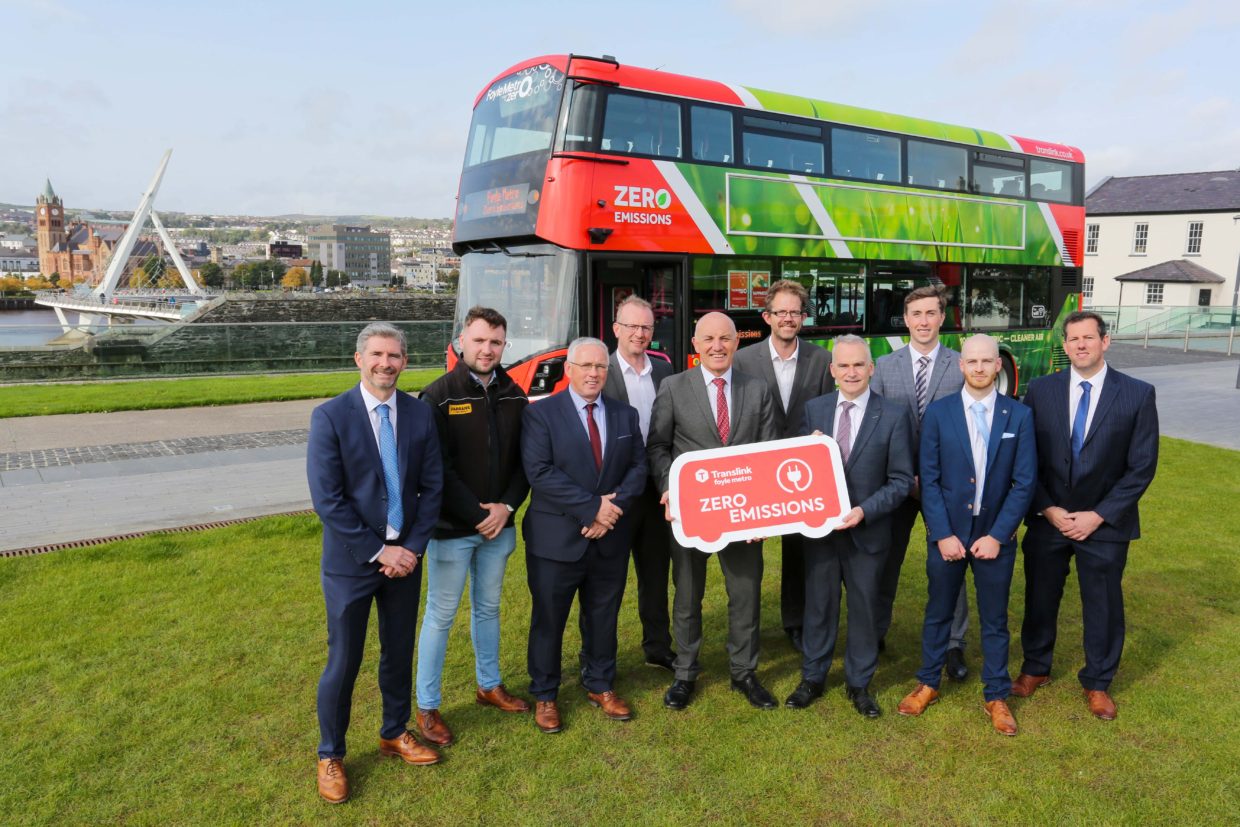 Foyle Metro fleet now zero emissions as Farrans supports Translink's EV transformation
Translink has officially launched its all-new Foyle Metro electric bus service, making Derry~Londonderry one of the first cities in the UK and Ireland to operate a fully zero emission urban bus service.
We were the main civils and M&E contractor responsible for installing the infrastructure for the EV chargers in Pennyburn and Coleraine.
The new 38-bus Foyle Metro fleet features a mix of single and double deck all-electric vehicles.
John Murphy, Contracts Manager for Farrans, said: "This is a major milestone for Translink and for the city of Derry-Londonderry which we are proud to have played our part in. Our works involved 22 hyper chargers being installed enabling 44 buses to be charged sequentially overnight, with future-proofing for an additional 19 bus charging stations. We were contracted to install all the charging points, drainage and to construct a Low Voltage transformer building which will distribute power to the chargers and a High Voltage Switch room, which is connected to the grid network supplying the site with power. The introduction of the modern new battery electric vehicles is a significant step forward towards cleaner, greener, sustainable transport choices."
A wide range of stakeholders tasked with tackling climate change and improving connectivity in the city recently came together in Ebrington Square to mark the special occasion.
Mayor of Derry City and Strabane District Council, Cllr Patricia Logue, said: "I am delighted that our city is celebrating the launch of Translink's Foyle Metro zero emission fleet, with passengers in the Council area now able to avail of a greener, cleaner and more sustainable way to travel.
"The service fully aligns with our aspirations to meaningfully tackle the climate crisis and has particular importance as we were the first Council in Northern Ireland to officially declare a climate crisis. I would like to commend Translink for investing in upgrading the entire Foyle Metro fleet.
"I would encourage our citizens to take advantage of these innovative electric buses and convenient service, playing their part in improving air quality by leaving the car at home where possible. Using public transport even one day per week could significantly reduce your carbon footprint."
Chris Conway, Translink Group Chief Executive, said: "Today's launch marks a major milestone in our journey to net zero and heralds a new era in zero emissions public transport for Derry~Londonderry.
"Delivery of these cutting-edge buses shows our commitment to tackling climate change, reducing air and noise pollution while promoting a healthier, better connected society.
"More people choosing public transport over private motoring, alongside these new greener buses will play a major role in helping achieve the carbon emission reduction targets for the city and also those set out in the NI Climate Change Act."
The project supports Translink's vision to reduce greenhouse gas emissions by 50% by 2030 and operate a zero emissions fleet across Northern Ireland by 2040.
For more information visit: www.translink.co.uk/FoyleMetroZE.