The works were associated with the upgrade of the ship building facilities at BAE Systems' Govan and Scotstoun sites on the River Clyde for the production of the Royal Navy's new Type 26 fleet.
40 Months
Project Duration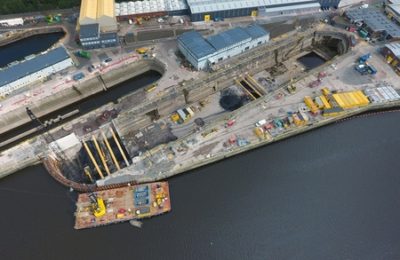 Client
BAE Systems
The Project
The main works were at Scotstoun. Farrans helped transform the operational efficiency of the drydock by replacing the old caisson dock gate with a state-of-the-art flap gate.
The works included the removal of the old gate and modifications to the dock structure to facilitate the installation of a new 300 tonne flap gate with associated winches, hydraulics, electrical and control systems. Within the dry dock we carried out modifications to the propeller and stabiliser pits. We were also responsible for the creation of a new deep-water berth and associated dredging works.
Services & Expertise
Providing a dry environment to facilitate carrying out the dock modifications was a major challenge. The original concept design was based on the use of cellular cofferdams to provide a temporary water retention barrier. This solution had many disadvantages including additional dredging and the need to import large amounts of fill material. At the end of the project the removal of the redundant caissons and associated fill would have been an expensive operation.
Making extensive use of the latest techniques in 3D visualisation, we worked closely with the client to develop an alternative solution. This used a singular run of sheet piles to create a partial arch restrained by the existing dock walls and steel truss modules. This approach significantly reduced the ecological impact of the project by minimising the dredge area and removing the need for fill material. Our approach also allowed us to maximise offsite construction and the arch structure was recycled at the end of the works.
At BAE's Govan facilities we installed new fendering and carried out a range of minor demolition, M&E and dredging works.