The Aurora Aquatic centre is the first Olympic standard swimming pool to be built in Northern Ireland.
31 Months
Project Duration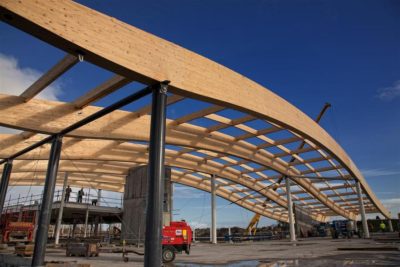 Client
North Down Borough Council
The Project
This award-winning, state-of-the-art leisure centre incorporates an Olympic sized swimming pool and offers a range of sporting and leisure activities in Bangor, Northern Ireland.
The striking building features glulam beams spanning the full 70m width of the building, and is home to a wide range of facilities including:
A ten lane 50m pool with two submersible booms and floating floors to facilitate full international long and short course competitions
A 25m diving pool which is 3.8m deep, with a moveable floor that can be raised to any depth. It features two 1m springboards; two 3m springboards; one 3m platform; and one 5m platform with diving boards up to 5m
A fun themed area including a wave pool, water slides, flumes, interactive water play features and bubble pools
Health and Fitness Suites: Fitness training equipment will be complemented by exercise studios for various aerobic classes, along with a sauna and steam room
Eight court sports hall
Squash courts
Performance Development Centre (PDC), which is a specialist strength and conditioning suite available to elite and sub-elite athletes and other sportspeople for strength and conditioning training
An external sports village including floodlit synthetic grass pitch
A management suite including function rooms, Café and a children's crèche
Parking for up to 700 vehicles
Services & Expertise
The buildings which were previously on site were painstakingly dismantled by hand in order to salvage masonry elements which were of archaeological significance.
An expert in historical landscapes was commissioned as part of the design process to integrate the design into the historical demesne, including the recently restored Victorian Walled Garden.
The bold design included feature areas of natural stone which was a reference back to other walls and structures which were previously on site.
The project included a CHP (Combined Heat and Power) unit which allows the building to locally generate its entire heat requirement, and some 65% of its own electricity requirement. The building also recycles rainwater from 6,800 m2 of the roof for WC flushing.