Belfast Education and Library Board required the construction of a new school and outdoor sports facilities at the Boys' Model School in North Belfast.
35 Months
Project Duration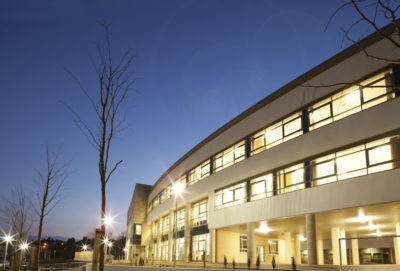 Client
Belfast Education and Library Board
The Project
The initial phase of the main contract was to construct the technology block, located behind the existing school. Work started in March 2008 and was handed over to the school as decent accommodation in October 2008 on schedule. The completion of this stage of the project allowed for the demolition of the old technology block and the commencement of the main school build.
Services & Expertise
One of the major challenges faced during this project was to minimise disruption to the existing school. For this to happen, complex phasing and installation of 24 mobile classrooms were initiated for use as decant accommodation within a £1 million enabling works contract.
The outdoor sports facilities included two new synthetic pitches, a new grass rugby pitch, a polymeric running track and a new pavilion- all construction had to be completed within a fully operational and live school environment.
The entire project involved detailed planning and execution to construct a totally new building situated on the same site as the original. All demolitions, new build and decant all took place on the same site while keeping the school fully operational throughout.
As a result, the project achieved the required BREEAM rating of Very Good as stipulated by the client at the beginning of the project.
Throughout construction, the surrounding ecosystem was always a priority. Therefore, bat boxes were fitted and surrounding trees were cordoned off to protect nesting birds.