Farrans and JV partner Sacyr are delivering the main works on the NI Executive Flagship Belfast Grand Central Station project alongside Translink which commenced in February 2022.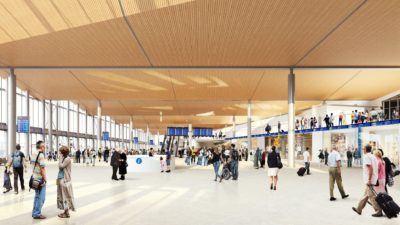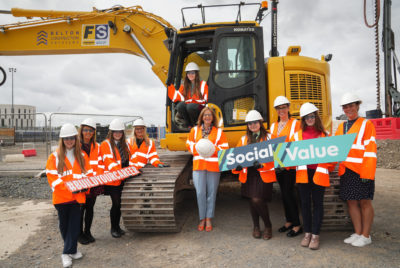 Client
Translink
The Project:
The new multi-modal Transport Hub will replace the existing Europa and Great Victoria Street bus and rail stations.
It will provide greater capacity with an increase to 26 bus stands, 8 railway platforms, enhanced walking and cycling connectivity, greater comfort and accessibility encouraging greener, active travel for a healthier, smarter city.  The Weavers Cross development delivered as part of the project will regenerate the lands around the transport hub and facilitate economic growth and urban regeneration.
In September 2022 we completed major piling operations  for the new state-of-the-art integrated station. In total over 1400 piles have been placed in five months which will be used to support the main station superstructure.
As part of our work on Belfast Grand Central Station we are committed to delivering a positive lasting impact through events and engagement with local community groups, charities and schools to provide training, apprenticeships and employment. For example we hosted a careers open day, held at the construction site of Belfast Grand Central Station, which brought together 75 female students from five schools in the city for an interactive experience event designed to inspire the next generation of science, technology, engineering, arts and mathematics (STEAM) talent.
Services & Expertise:
We are pleased to be taking the next step forward in a project which will be integral in shaping the future of the city and promoting sustainable transport. We have an established relationship with Translink and we will continue our collaborative working approach.
Construction on the new facility will take around 4 years to complete.  During this time over 500 jobs will be created, and the scheme overall will be a major boost to the construction and engineering sector in Northern Ireland. Social value will play a significant role during the construction of the Belfast Grand Central Station and we will be engaging closely with community groups, charities and schools to create local employment, training and apprenticeship opportunities to deliver a positive lasting impact. We are looking forward to playing our part in bringing a fully inclusive and impressive facility to life.
The JV has a successful history of working together on important infrastructure projects and is currently delivering Edinburgh Trams to Newhaven for the City of Edinburgh Council as SFN. Trams to Newhaven will add 4.69 kilometres / 2.91 miles of track in both directions, connecting Leith and Newhaven to the current end of the Edinburgh tram line at York Place with 8 new stops. This will offer residents access to high capacity light rail which will sit alongside the existing bus service as well as improved cycling and walking infrastructure along the route. Construction commenced in November 2019 with trams timetabled to take their first passengers to and from Newhaven in Spring 2023.