Farrans Construction was the main contractor for the construction of the D1 Offshore Wind Turbine Logistics Facility – providing 50 acres of storage on reclaimed land in Belfast Harbour.
14 Months
Project Duration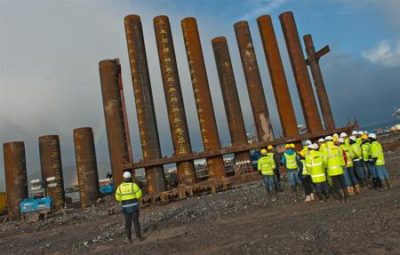 Client
Belfast Harbour Commissioners
The Project
The D1 Project at Belfast Harbour, the UK's first purpose built offshore wind logistics facility, involved the construction of a 500m new quay wall structure and a deep-water berth.
The scale of the project is impressive – in fact, it is the largest ever undertaken in the 400yr history of Belfast Harbour. We completed the works in just over 1 year.
Services & Expertise
The quay wall was constructed over both land and water, utilising 32m long 1.6m diameter tubular piles in combination with 22m long PU22 sheet piles. The combi-wall was tied back to a reinforced concrete anchor beam supported on 367 No. 30m long 760mm diameter raking tubes which were anchored to the rock. A total of 30,000m³ of concrete was used during the construction of the relieving slab which is supported on 780 No. 750mm diameter CFA piles.
Works also included the dredging of 600,000m³ of material for the new deep-water berth and approaches and its disposal at sea. An additional 20,000m³ of contaminated dredged material was treated on site prior to disposal. Approximately 150,000T of rock armour was placed beside the quay wall as protection for the seabed from the jack up barges used in the offshore wind industry. The Contract also required the development of 50 acres of hinterland.
A total of 900,000m² of geotextile and 1,000,000T of aggregate were used in the construction of 200,000m² of heavy-duty unbound pavement for the hinterland. General services were also installed to supply the future renewables hub.