Farrans has completed the East Quay development for Global Energy in Scotland, providing new wet berths with heavy-duty quays to serve the marine renewable energy market as well as the North Sea oil and gas market.
c.14 Months
Project Duration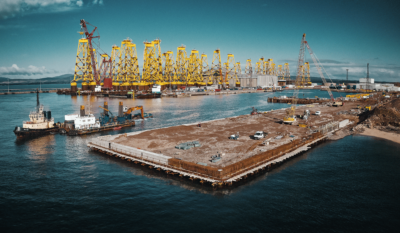 Client
Global Energy Group
The Project
The Port of Nigg unveiled its new East Quay in July 2022, which, at 225m long and 50m wide, increases the leading port facility's deep water quayside capacity to over 1,200m – placing it amongst the largest in the country.
Marine construction works for the East Quay commenced in April 2021, in the midst of the pandemic, with Farrans delivering the quay on schedule and on budget.
The opening of the new quay is a game changer for the Port of Nigg, enabling it to service multiple large scale Energy sector projects simultaneously and ensuring the port facility has the required infrastructure in place to accommodate the demands for future floating offshore wind sector opportunities.
Services & Expertise
The works consisted of the construction of a finger quay projecting from the existing quay wall, protection to the existing quay wall to prevent any adverse effects during adjacent dredging works and dredging to the required depths.
Farrans has designed the whole of the quay, the dredging and the infill to the quay structures. We constructed the infill and the fixed structures of the quay, this includes all of the quay furniture and fittings which are cast into or permanently welded to the quay structure, and all the cast in fixings.
The scope of works consists of surveys, studies, design, procurement, construction and handover of all elements of the works.
The East Quay will be used by vessels engaged in the off-shore energy and North Sea oil and gas sectors. It will be used as a heavy lift area for the storage and for the load out of elements required for energy production in the marine environment – both for marine renewables and for North Sea oil and gas. The quay is operational 24 hours a day, 365 days a year.