The East Quay development for Global Energy in Scotland will provide new wet berths with heavy-duty quays to serve the marine renewable energy market as well as the North Sea oil and gas market.
c.14 Months
Project Duration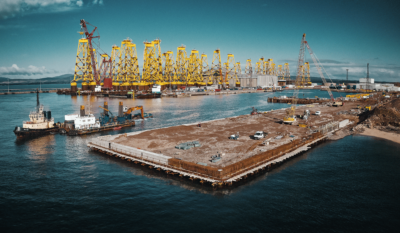 Client
Global Energy
The Project
The works consist of the construction of a finger quay projecting from the existing quay wall, protection to the existing quay wall to prevent any adverse effects during adjacent dredging works and dredging to the required depths.
Farrans has designed the whole of the quay, the dredging and the infill to the quay structures. The company is constructing the infill and the fixed structures of the quay, this includes all of the quay furniture and fittings which are cast into or permanently welded to the quay structure, and all the cast in fixings.
Services & Expertise
The scope of works consists of surveys, studies, design, procurement, construction and handover of all elements of the works.
The East Quay will be used by vessels engaged in the off-shore energy and North Sea oil and gas sectors. It will be used as a heavy lift area for the storage and for the load out of elements required for energy production in the marine environment – both for marine renewables and for North Sea oil and gas. The quay is operational 24 hours a day, 365 days a year.