Farrans is the main contractor on the Govan to Partick Bridge, a fabricated steel cable stayed opening swing bridge, for Glasgow City Council.
24 Months
Project Duration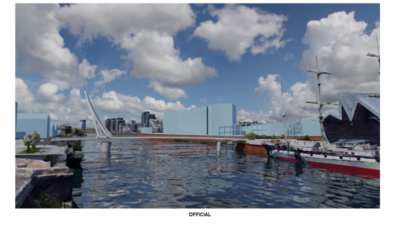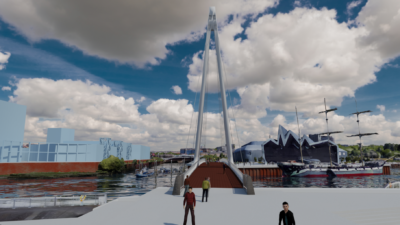 Client
Glasgow City Council
The Project:
The £29.5million project includes the construction of a new pedestrian/cycle bridge over the River Clyde between Water Row in Govan and Pointhouse Quay in Partick, a connection that will re-establish the historic link between the two areas.
The bridge will be economically, environmentally and socially important as it will create a link between communities, visitor attractions and institutions of national economic importance, and is a key part of the active travel route between the University of Glasgow's campus at Gilmorehill and the Queen Elizabeth University Hospital.
Works began on-site in January 2022.
Services & Expertise:
In addition to the construction of the fabricated steel cable stayed opening swing bridge, the project will also see:
Demolition of a section of masonry/concrete quay wall and access stairs at Water Row, Govan;
Construction of a sheet piled quay wall and Infilling to finished ground level to extend Pointhouse Quay to form the north bridge landing, access ramp and public realm;
Construction of a reinforced concrete abutment/quay wall and Infilling of the disused Govan Ferry Inlet at Water Row in Govan to form the south landing;
Construction of bridge approach ramps, retaining walls, provision of drainage and public realm at the north and south bridge landings;
Bridge and public realm statutory and feature lighting;
Diversion of the Scottish Water Combined Sewer Outfall at Pointhouse Quay;
Extension and modification of existing Cathodic Protection Scheme at Pointhouse Quay; and
Installation of timber fenders and access for a layby berth at Merklands Quay on the Clyde.
143 construction jobs will be supported through this project, and significant community benefits will be delivered, including starts for 11 new employees; five new apprentices and a new graduate; school mentoring, work placement, volunteering and work experience opportunities; business mentoring opportunities and supply chain briefings; and community engagement from the contractors, with both financial and non-financial support for local projects.