Welcome to our webpage which will keep you up to date with progress on the Keynsham Recycling Hub project. Farrans Construction is delighted to have been appointed by Bath & North East Somerset Council as the main contractor on this state-of-the-art project.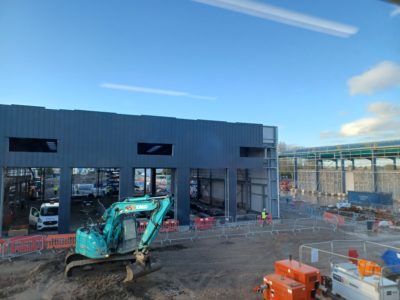 Client
Bath & North East Somerset Council
Work continues to progress the development of a modern recycling centre, a reuse shop for people to donate items for reuse and resale, and an MOT workshop and offices which is due for completion in late 2023.
In line with the council's Climate and Ecological Emergency declarations and policy aims, the Keynsham Recycling Hub project will integrate many sustainability measures including on-site renewable energy generation. Farrans bring a strong organisational approach to responsibly managing our environmental footprint across site operations and value chain. This project is seeing the delivery of new innovative methods of sustainable construction and management throughout the works.
Delivering a Lasting Legacy
Farrans is also committed to the delivery of an impactful programme of Social Value and Community Engagement alongside the construction works. We believe it is important to develop and support a skilled workforce on site, and build the skills capacity of the construction sector of the future leaving a lasting legacy in the heart of the communities that we work in.
Led by our Community Business team we have been delivering a programme of activities that working with local partners in Keynsham and the wider B&NES region to provide employment and training opportunities, engage in educational and community initiatives and support the local economy. To date we have hosted a range of site visits; participated in careers fairs; and delivered employability sessions and construction workshops in local primary, secondary schools and colleges. We have donated food items and cash to Keynsham foodbank and trees to local community initiatives alongside volunteering our time to support the work of the council's Clean & Green team carrying out litter picking and garden clearances.
If you are living or studying locally to Keynsham with a desire to learn more about work experience or employment opportunities or if you are a local group, school or business who would like to get involved with the work of the team, please get in touch via the project helpline or email.
Ongoing Roadworks
As part of the works a new entrance to the hub will be created on World's End Lane which will involve the widening and upgrading of the current laneway. These works have commenced and are due to finish in early 2023 but the lane still remains open to through traffic while the remaining work completes.
As part of the wider project a range of activities were required by utility companies to provide power, water and other services to the future buildings at the hub. The utility companies also used this opportunity to carry out improvements to existing infrastructure to ensure the service for the wider area is sufficient. This work is now complete with most of the remaining construction works taking place within the site itself.
Completion of Phase One
The new Keynsham Reuse and Recycling centre opened on Monday 17 April 2023. This sees the completion of phase one of the overall project. The Reuse and Recycling Centre is accessed via a new entrance on the upgraded and widened World's End Lane. During Phase 2 the old Pixash Recycling Centre, which is now closed, will be demolished and Farrans will continue construction on the key elements of the new operational infrastructure for waste and recycling collections, bulk transfer to processing or treatment sites and including a significant installation of sorting and baling equipment for recyclables.
Construction on Phase 2 of the Keynsham Recycling Hub will continue, with site deliveries and the council's operational vehicles using separate entrances on Pixash Lane. It is anticipated that Phase 2 will be completed over the winter with landscaping and tree and hedgerow planting around the whole site continuing.
Project Newsletter
You will find the latest Winter Keynsham Recycling Hub Newsletter here. If you would like to receive this digitally (along with other updates) please email keynsham@farrans.com to register your details. If you would like to find out about our current vacancies please check out the careers section of our website.
Project Contact
If you have any questions about the project, you can call 01483 717 321 or email keynsham@farrans.com. Please enter 'Keynsham Recycling Hub' in the subject line