Farrans has completed a project at King's College London which involved the refurbishment and alteration works to the Department of Engineering in the Quadrangle building.
74 Weeks
Project Duration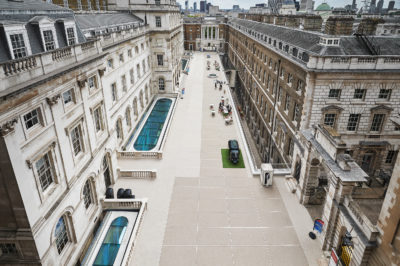 Client
King's College London
The Project
King's College London is one of the most prestigious universities in the United Kingdom. The Quadrangle building is a two-storey basement located under the existing external quadrangle deck in an area of significant heritage located between the Grade I listed King's Building and Somerset House, stretching between the prestigious areas of The Strand and The Embankment.
As experts in the education sector Farrans was well positioned to take on this complex, heritage led and technically challenging project in the heart of London city centre. The works were phased and included structural elaterations, shell and core works to create lightwells, an oculus, insitu helical stair, refurbishment of the quadrangle deck, King's steps and Somerset House East Wing lightwell and the upgrading of existing building services within the live campus.
Services & Expertise
Farrans completed enabling works within the King's building to relocate IT cabling and sub mains electrical distribution cabling and upgraded existing air conditioning units within the College's main server and telephony rooms. The works were sequenced to ensure there was no interruption to the services.
Significant Temporary Works were required to facilitate the alteration works and to support the quadrangle deck to due to weight restrictions. A specialist 'floating' deck and crane were used to facilitate the installation of the permanent works.
Access and logistical restrictions required liaison with key stakeholders to facilitate student movement through campus, alterations of fire escape routes, continuous noise and vibration monitoring to ensure teaching is not disrupted.