The hotel was designed to accommodate 120 high quality bedrooms in over 20 combinations along with restaurant, bar and conference facilities.
16 Months
Project Duration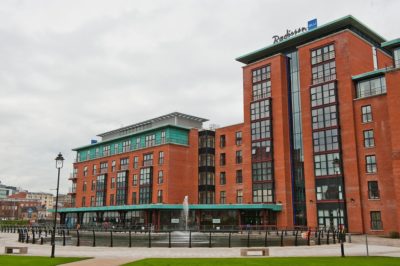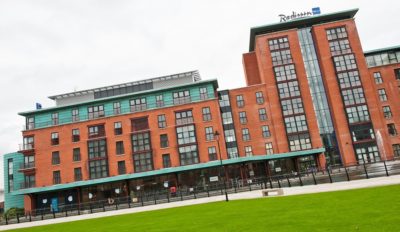 Client
Inislyn Limited
The Project
The Radisson SAS Hotel project was awarded on the basis of a novated conceptual design.
Construction comprises a precast piled substructure supporting an in-situ concrete column and beam frame with precast composite flooring. The building façade incorporates brick elevations with punched windows and feature glazing to compliment the copper cladding at feature entrances.  Roof coverings extend over featured canopies at the upper levels and are finished with copper cladding to the fascia and soffits.
Services & Expertise
Design development, value engineering and buildability workshops were undertaken early in the project with distinct benefits to construction programme and logistics.
Finishes were completed to high quality 4-star specification:
High specification case goods with marble inlays
Italian porcelain tiled bespoke bathrooms
Penthouse suite with adjoining living room and conference facilities
Contemporary designed open dining and bar area with solid oak floors
Hard and soft landscaping including granite paving around a 5m deep water feature