The new Perinatal Unit (£15.5m) works comprised a three-storey extension to the existing Rosie Maternity Hospital, Addenbrookes together with associated minor alterations to the existing building and junctions.
17 Months
Project Duration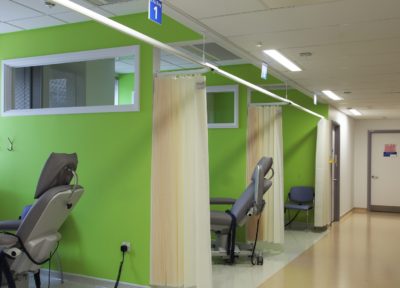 Client
Cambridge University Hospitals NHS Foundation Trust
The Project
The Rosie Perinatal Unit at Addenbrooke's Hospital was officially opened by the Queen and His Royal Highness, The Duke of Edinburgh, marking 51 years since her last visit to the hospital, when she opened the new Addenbrooke's site.
The unit was constructed, fitted out and commissioned in just 76 weeks, within a live hospital environment. Project challenges included working on a restrictive site with operational buildings on three sides; the existing maternity to which the extension tied in, a clinical treatment centre on one side and a cardiac ward on the other. The clearing of the site involved minor demolitions and major service diversions involving two foul drainage pumping stations, water and gas main supplies.
Services & Expertise
A particularly complex element of this project was the installation of basement service link tunnels, linking the existing hospital with the new Perinatal Unit. Complex temporary works were used to retain ground in restricted spaces between the two existing buildings; with a clearance of less than nine metres the task was to install a three-metre wide link tunnel.
A complex phased programme ensured the handover of critical sections of the works, minimising the disruption to the surrounding building by handing over access roads early.
The Perinatal unit was constructed using spread pad foundations which we introduced as an alternative to concrete piled foundations. This provided the advantages of less disruption and speed of programme. The basement and ground floor were constructed with reinforced concrete, the frame consisted of insitu concrete with a steelwork frame to atrium, link corridor and roof plant room.
The escape and feature stairs are precast concrete, the envelope consists of brickwork, insulated render and cement board cladding to the external walls with areas of curtain walling and timber battens. Internal walls are generally metal stud partitions with insitu concrete shear walls as required, having acoustic treatments to sensitive areas.
Close liaison with the Cambridge University Hospitals NHS Foundation Trust, ensured all major services diversions were successfully completed and overall disruption minimised to the surrounding hospital.