The Skainos Project is an urban regeneration development in inner East Belfast which provides a shared space for community transformation and renewal.
24 Months
Project Duration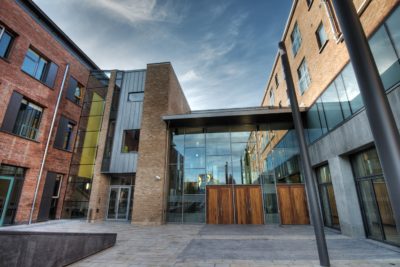 Client
Skainos
The Project
The Skainos Project is a flagship redevelopment scheme on a brownfield site. The vision was for the completed project to engage with the entire community; becoming a setting wherein people can gather and find help for concerns regarding health, employment, education, childcare, housing or spirituality.
This scheme was primarily about the improvement of care and developmental support for a range of different groups – children, families, young people, unemployed individuals, homeless individuals and the elderly.
The Skainos company board members were derived from the local community, as well as being associated with the Trustees of the Methodist Church in Ireland, East Belfast Mission, Oaklee Housing Association and the East Belfast Community.
Services & Expertise
The finished building included a new community multi-use building, with a combined floor area of approximately 10,400m2. It also comprised three and four storey residential, community and commercial units. Works also included all site works, landscaping, drainage and installation of building services.
The residential accommodation comprised of one hostel, including bed-sits and one bedroom apartments, as well as a combination of two-bedroom apartments, two-bedroom duplex apartments, one-bedroom apartments and one-bedroom duplex apartments.
A number of contractor-designed elements were also included, such as the design and construction of timber-framed residential units on the upper floors.
Community areas were constructed, including an auditorium, office accommodation, a café with a kitchen, family centre, and community hall, facilities for Age Concern and educational facilities for Belfast Metropolitan College.
The long-term vision for Skainos was the creation of a mixed-tenure community living on the site, that up to 120 people could eventually have Skainos as their home address. Hosford based in the Skainos Centre provides shelter for 26 individuals experiencing homelessness, alongside a range of integrated private affordable and social housing on the site.