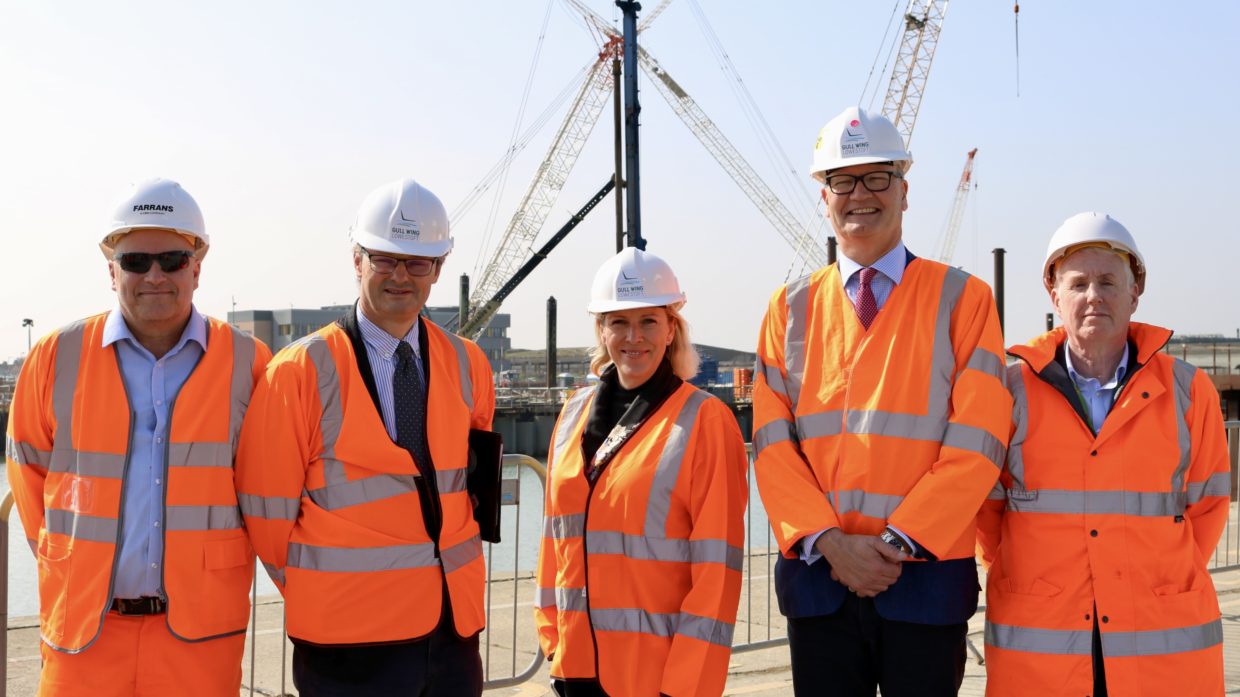 Roads minister Baroness Vere visits Gull Wing bridge
Roads minister Baroness Vere was in Lowestoft to see progress on construction of the Gull Wing bridge.
The Baroness, who is Parliamentary Under-Secretary of State for Transport and Minister for Roads, Buses and Places, saw for herself work taking place on the crossing at Lake Lothing in a visit on Friday March 25.
She was given an introduction to the site in which she was joined by Waveney MP Peter Aldous, Councillor Matthew Hicks, the leader of Suffolk County Council, Councillor Norman Brooks, East Suffolk Council Cabinet Member for Transport & Infrastructure, and Councillor Sonia Barker of Lowestoft Town Council.
Also in attendance were C-J Green, the chair of New Anglia Local Enterprise Partnership, and John Dugmore, chief executive of Suffolk Chamber of Commerce.
Baroness Vere said: "It was fantastic to visit the Gull Wing Bridge to see work progressing on this important project.
"Our £73.39 million funding will provide a significant boost to Suffolk's local economy, and this new link will be indispensable to the local community when it is completed – boosting connectivity, reducing congestion and attracting investment to the area."
Councillor Hicks said: "We are delighted to welcome Baroness Vere here to see for herself the progress this important project is making.
"Once complete the bridge will play a huge role boosting the economy of not just Lowestoft but the wider area.
"It will open up investment into the town by tackling congestion and improving connectivity for motorists, cyclists and pedestrians alike."
Leading building and civil engineering contractor Farrans is constructing the bridge for Suffolk County Council.
It will be a much-needed third crossing over the town's Lake Lothing, reducing traffic congestion in the town, regenerating the area and attracting new investment for the local economy.
Earlier this month the project reached a major milestone with the arrival of the first major steel section, the 55 metre Northern Approach Viaduct, which was towed in on barge after crossing the North Sea from Belgium.
Following the visit to the Gull Wing site the Baroness went to see works at the Third River Crossing in Great Yarmouth.
Neil Barnes, England regional director for Farrans Construction, said: "We consider it a great privilege to welcome Baroness Vere to two of our sites today, firstly at Gull Wing in Lowestoft and then Great Yarmouth's Third River Crossing.
"As a company we are proud to be delivering some of the largest roads and bridges projects in the UK and bascule bridges like these involve particularly complex and technically challenging civil engineering.
"We were delighted to show the Baroness our progress to date and share the positive lasting impact we are striving to leave in both areas, through our local employment, supplier relations, apprenticeships and support for the community."