Education and action are the focus for Pride 2022 at Farrans
We are pleased to celebrate Pride 2022 throughout June as part of our wider inclusion and diversity agenda.
We will be focusing on two key themes for Pride 2022 – education and action.
It is our collective responsibility to ensure that our industry is welcoming for everyone.
We promote, advocate for and encourage inclusion and diversity throughout the company and within our industry. 
We are hosting internal Lunch and Learn sessions, introducing I&D into our induction processes and we are looking forward to attending Pride parades across the UK and Ireland.
Our inclusivity and diversity efforts won't stop here.
Pride is just one part of our wider work in this area as we look at what more we can do to support each of our protected characteristics.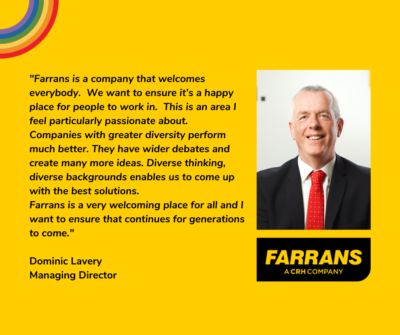 Find out more by visiting our inclusion and diversity page. 
#pride2022 #pride #inclusion #diversity #equality #construction