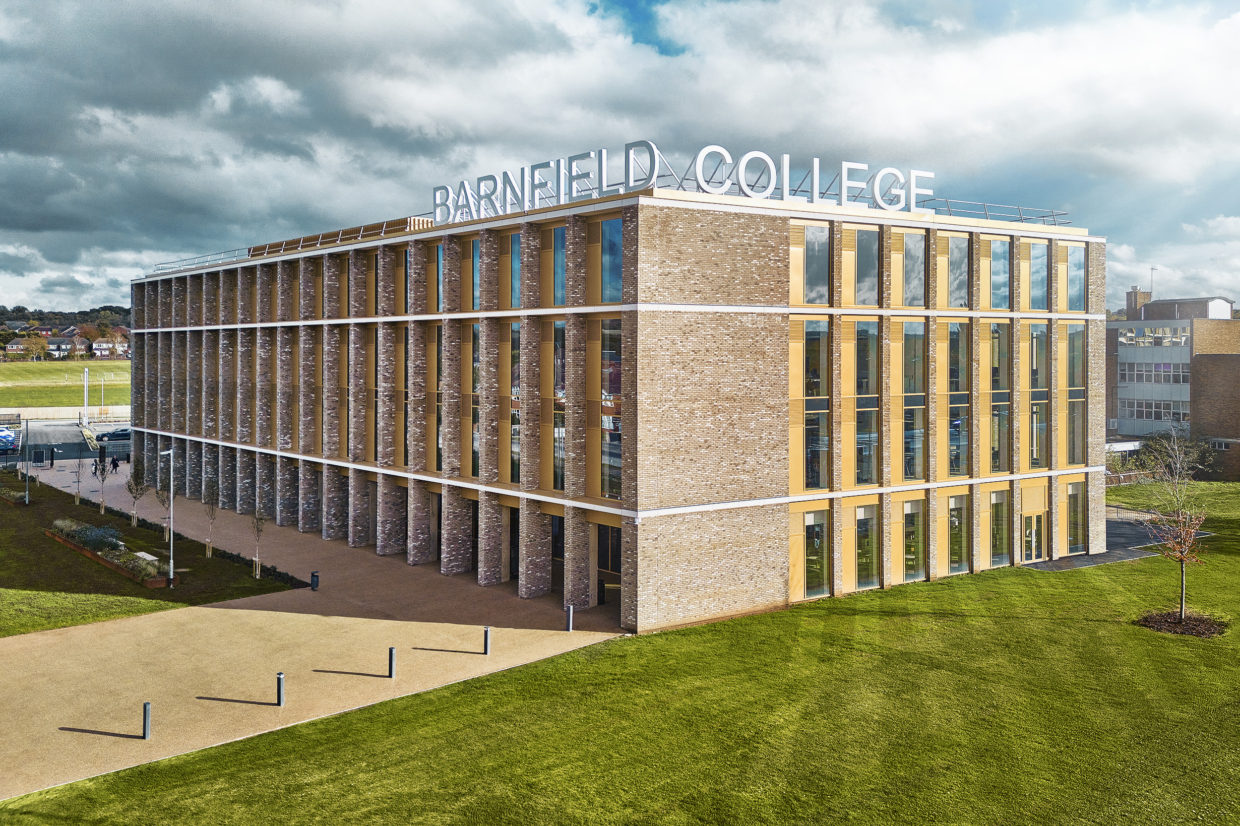 Farrans completes £25m redevelopment of Barnfield College
We have completed a £25m redevelopment project at Barnfield College in Luton for client West Herts College Group.
The new further education campus has delivered a four storey, prestigious building complete with central atrium and modern teaching facilities.
South East Midlands Local Enterprise Partnership (SEMLEP) provided £4.75m of project funding as part of the Getting Building Fund (GBF) which aims to support the UK's economic recovery following the COVID-19 crisis. The programme funds local, ready to start infrastructure projects which will help local businesses, people and places to thrive.
In addition to providing a 6,000 sqm facility, which will accommodate skills delivery for mainstream employment sectors and specialist skills in digital and gaming, the new College building allows for the expansion of learning provision in space better suited to modern courses.
Farrans has an in-house Community Business Partner team who work collaboratively with clients, social enterprises, and communities to ensure they place the needs of local people at the heart of operations in delivering long lasting social value. During the build at Barnfield College, 19 local apprentices and 16 long term unemployed people were provided with employment opportunities.
Due to the challenges of the Covid-19 pandemic, employment and skills events, careers workshops and Meet the Buyer events were all managed virtually. Over 53% of the contract value was spent with local supply chain.
Ryan McGreevy, project manager at Farrans Construction, said:
"Barnfield College has been an important project for our team for a number of reasons. Firstly, we were pleased to continue our relationship with West Herts College Group, having previously delivered the Hemel Hempstead Phase 2 building for them. Secondly, we faced some challenging head winds during this build from the pandemic to skills and supply shortages and rising material costs. We have overcome each of these challenges by working collaboratively with our client. It is rewarding to see the high quality new college completed and ready for students to enjoy.
"Throughout this project we have worked with West Herts College Group to create sustainable employment, training and skills development to leave a positive lasting legacy and we adapted our approach in line with lockdowns and pandemic regulations to secure a good outcome. We are experts in the education sector and have recently completed Charlton Park Academy, Ruislip High School, Big Creative Academy, Kings College London, a complex project in London city centre, and Rotherhithe Primary School."
Barnfield College Principal, Cath Gunn, said: "These new facilities will serve the community for years to come and will enable local people to develop the skills they need to be successful in life and work. Thank you to the Farrans team for their hard work in helping to deliver this outstanding new building."