Farrans is currently on site for the development of Cloncreen Wind Farm for Bord na Móna.
28 Months
Project Duration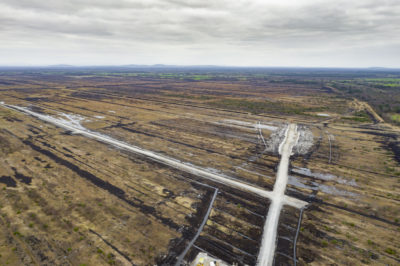 Client
Bord na Móna
The Project
Farrans has delivered some of the largest and most technically challenging wind farms across the UK and Ireland.
We are currently on site for the development of Cloncreen Wind Farm. This project represents an investment by Bord na Móna of over €100m in low carbon electricity generation infrastructure in Co. Offaly. The wind farm will make a significant contribution to the achievement of Ireland's 70% renewable electricity target by 2030.
Construction of Cloncreen Wind Farm started in Summer 2020 and it is due to enter commercial operation in quarter four 2022.
Services & Expertise
Cloncreen Wind Farm forms part of Bord na Móna's accelerated development pipeline of renewable energy and other assets. It will play a significant role in the company's Brown to Green Strategy.
A key objective of this strategy involves using the existing landbank to continue to underpin Ireland's energy independence by developing green, sustainable energy sources to assist with Ireland's commitment- as part of the Climate Action Plan.
Turbine delivery is expected to begin in the first quarter of 2022. Cloncreen Wind Farm will consist of 21 V136-3.45 MW Vestas wind turbines in 3.6 MW operating mode which will have an overall tip height of 170m. Within this size envelope, the turbines will have a rotor diameter of 136m and a hub height of 102m.