Farrans has completed the development of Cloncreen Wind Farm for Bord na Móna.
28 Months
Project Duration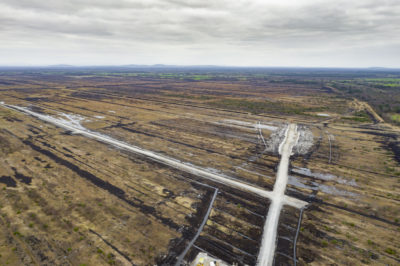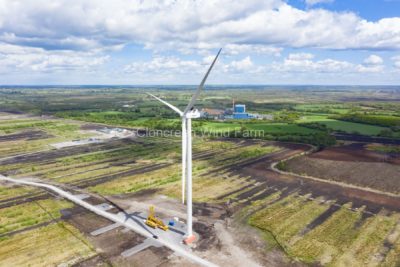 Client
Bord na Móna
The Project
Farrans has delivered some of the largest and most technically challenging wind farms across the UK and Ireland.
Bord na Móna's Cloncreen Wind Farm has started to supply clean, sustainable energy to the Irish grid and our Farrans team is proud to have been main contractors on this significant project.
The start marks an important milestone for Bord na Móna's role as a leader in the development of renewable energy in Ireland.
The development of the wind farm involved a company investment of over €100m in low carbon electricity generation infrastructure in Co. Offaly. The project will make a significant contribution to the achievement of Ireland's 80% renewable electricity target by 2030.
Bord na Móna received planning permission in 2017 for the 21-turbine wind farm located on its peatlands in east Offaly and construction of the wind farm started in summer 2020.
Cloncreen Wind Farm consists of 21 V136-3.45 MW Vestas wind turbines in 3.6 MW operating mode which have an overall tip height of 170m. Within this size envelope, the turbines have a rotor diameter of 136m and a hub height of 102m.
The wind farm will be capable of supplying 55,000 homes with renewable energy per annum and was one of the largest projects to clear in the RESS-1 auction.
Services & Expertise
Cloncreen Wind Farm forms part of Bord na Móna's accelerated development pipeline of renewable energy and other assets. It will play a significant role in the company's Brown to Green Strategy.
A key objective of this strategy involves using the existing landbank to continue to underpin Ireland's energy independence by developing green, sustainable energy sources to assist with Ireland's commitment- as part of the Climate Action Plan.