Farrans was the principal contractor for the delivery of a new multi-modal transport hub with integrated rail, bus and active travel facilities at the Derry/Londonderry station.
26 Months
Project Duration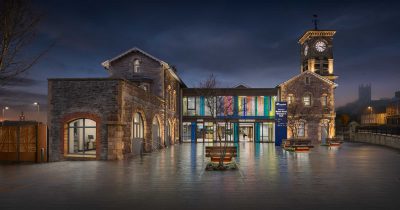 Client
Translink
The Project
Works included the refurbishment of the original Grade B listed building, the construction of the waterside train station building to include an active travel centre, the creation of a new Park and Ride Facility and bus turning circle, a Greenway link to the city centre and the demolition of the existing railway station. Works were carried out in 2 phases with completion of phase 1 in October 2019 working in Joint Venture partnership with railway engineers, Rhomberg Sersa.
We managed the live operational site by engaging with the client and design team from contract appointment and adopted clear lines of communication at all times. We liaised with Translink throughout, which enabled us to understand how our client operated and how we could deliver our works with minimal disruption.
Services & Expertise
This was a complex project which covered building, civil engineering, demolitions and permanent way works.
To fit-out office space in the listed building in which access was shared with the public, we developed a construction phase plan and put control measures in place to ensure minimal disruption to the station operations. We undertook a 10 day decant from the old station into the new, which was extremely successful with minimal disruption.
On the permanent way works, we successfully managed to interface with the clients direct signalling contractor who worked along with our specialist rail contractors. Planned activity meetings, including hour-by-hour programmes, successfully enabled the laying of the new track and signalling equipment to the railways. This was completed, without causing any delays to Translink's train services.
We constructed the new bus turning circle, passenger set down/collection area and taxi rank spaces, along with reconfiguration at Duke street roundabout. This process was methodically sequenced to allow minimal disruption to the live bus route and passing through traffic that serviced the council buildings adjacent the works.
Photo Credit: Tony Moore Photography