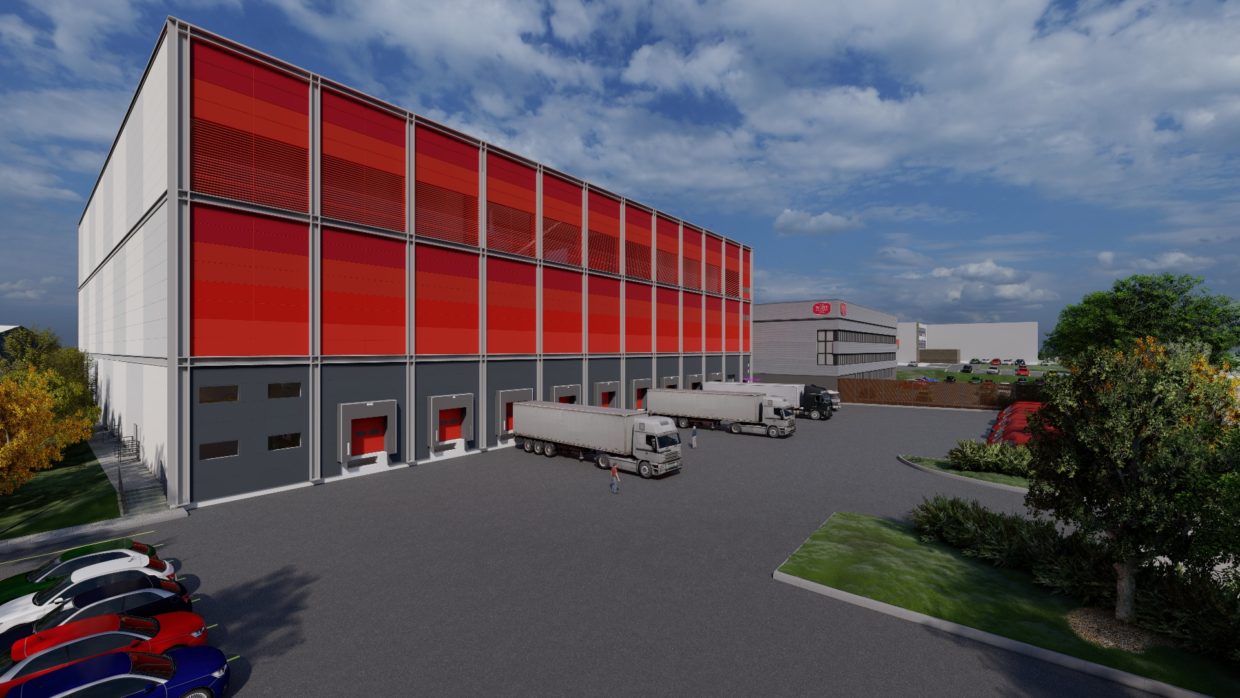 Work begins on £10m technically complex Wine Society warehouse in Hertfordshire
Farrans Construction has commenced construction on a £10m technically complex warehouse in Hertfordshire for their client, The Wine Society.
The building of Warehouse 5, the first extension to The Society's cellar space since 2009, will increase its storage facilities from 7.6m bottles to 11.3m – up almost 50% – as it responds to significant growth in demand both now and in the future. It will also enable the organisation to further streamline its goods in and picking procedures to enhance its service to members.
Using the latest in temperature moderating technology, this unique project will involve careful planning to accommodate requirements for a strictly controlled operational environment.
Farrans Construction, a CRH company, has over 75 years' experience of delivering world-class projects across the UK and Ireland. The company, which employs more than 500 people, has offices in London, Cambridge, Edinburgh and Belfast with further site offices connecting its regional network.
Cathal Montague, regional director for Farrans Construction, said:
"The development of a warehouse for a product as delicate as wine requires strict temperatures, structured flooring and a technologically controlled environment. Our company specialises in delivering high quality engineering and construction solutions which address technically challenging requirements. Constructing this building to seamlessly link into the existing live Warehouses 2 and 4 requires careful planning and effective materials distribution. We will utilise our in-house expertise of laser scan point cloud technology to verify elements of the warehouse using the BIM models.
"We are pleased to be further growing our portfolio in the commercial sector, particularly in warehousing and logistics, having previously delivered projects including a large-scale regional distribution centre for Lidl and five waste transfer stations on behalf of Essex County Council, helping them to provide a sustainable, innovative and resource-efficient solution towards meeting the county's waste management needs. Our team is looking forward to being on site and working alongside The Wine Society to complete a project which will help them to meet the demand of a buoyant market. Social value plays a key role in all of our projects and we will be working with the community of Stevenage to provide educational opportunities for people in the area through apprenticeships, placements and workshops.  We aim to leave a positive lasting impact in the areas in which we work."
Karen Coates, chief operating officer for The Wine Society, said: "This is an important investment for us on behalf of our members and one which will increase our distribution capabilities significantly to improve the efficiency and speed of our services.  Farrans approached our project by listening to our challenges and developing a solution that will work well for our members."
The company has now started on an enabling works period to retain the existing attenuation system and the construction of new tanks and drainage. The design and build of the project is expected to complete in August 2022.
Caption:
(L-R) Steve Finlan, Chief Executive Officer, The Wine Society; Karen Coates, Chief Operating Officer, The Wine Society; Rudi Moore, Contracts Manager, Farrans.
Photograph: Richard Washbrooke